Does The Microsoft Surface Pro Come With A Keyboard?
If you are considering purchasing a Microsoft Surface Pro, then you might be wondering if it comes with a keyboard.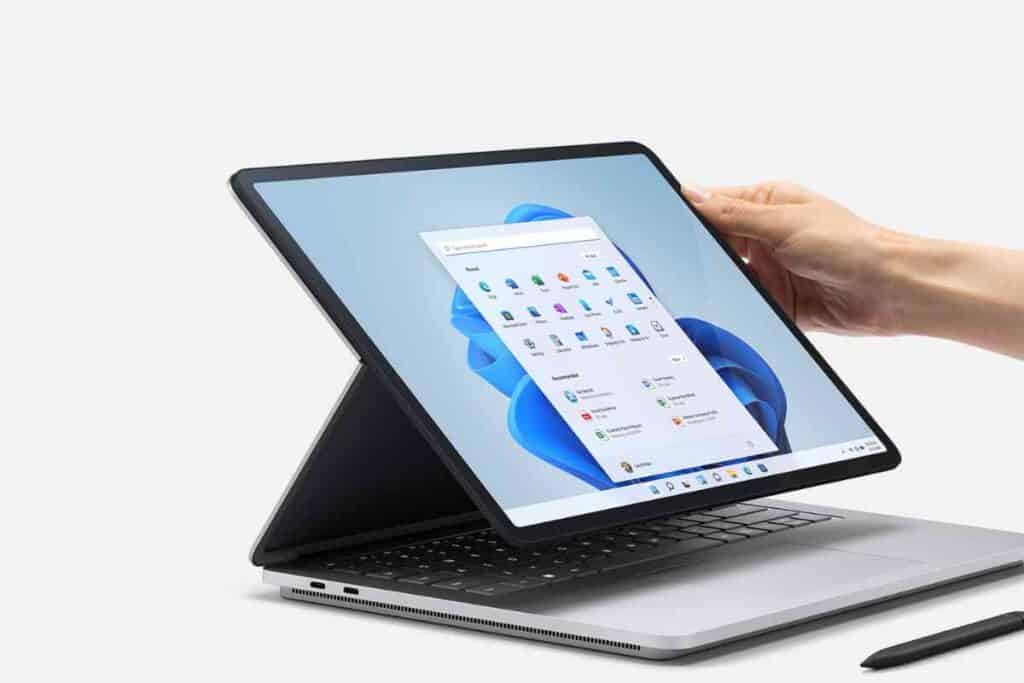 While you are researching the Microsoft Surface, check out the Microsoft category page along with bookmarking these other popular articles for future review: Can You Track A Microsoft Surface If It's Lost Or Stolen?, Can't Download Apps On Your Microsoft Surface? 8 Troubleshooting Steps!, and Will World Of Warcraft Run On A Microsoft Surface Pro?
Microsoft Surface Pros do not come with a keyboard at purchase. If you are wanting to use a keyboard with your Microsoft Surface Pro, then you will have to purchase one separately. Microsoft Surface Pro tablets can use the Microsoft signature keyboard or an external keyboard.
The information provided in this guide was provided by Microsoft and experts in the technology industry to provide accurate information.
Microsoft Surface Pro Overview
Microsoft has different versions of their Surface Pro tablet, each with different features and technology depending on what you are looking for and the purpose for which you plan to use the tablet. 
Surface Pro 9
The Microsoft Surface Pro 9 is the newest version of the tablet.
It has a 13" Pixelsense touchscreen.
This tablet is lightweight at only 1.94 pounds.
Battery life of up to 15.5 hours and has Intel 12 generation processor.
You can use the Surface Slim Pen 2 to sign, sketch, and navigate the tablet.
Open to having 5G connectivity.
The Unlock Neural Processing Unit-powered cameras will help with automatic framing and eye contact.
The Surface Pro 9 comes in 4 different colors, including platinum, sapphire, forest, and graphite.
Surface Pro 8
13" PixelSense Flow touchscreen with up to 120Hz refresh rate.
Can be used with the Surface Slim Pen 2.
11th Generation Core Processor and Windows 11.
4 Thunderbolt ports are available to utilize as needed.
The built-in kickstand adjusts nearly 180 degrees.
Lightweight at 1.96 pounds.
Dedicated charging port.
Wi-Fi 6 to allow for faster bandwidth.
Comes in 2 colors, including platinum and graphite.
Surface Pro 7+
12.3" touchscreen display.
Can be used with the surface pen.
Optimized 3:2 aspect ratio for better viewing.
11th generation Intel Core processor.
Long-lasting battery that will stay charged for up to 15 hours.
Built-in kickstand so you can easily angle the tablet as needed.
Lightweight at 1.7 pounds.
Has a USB-A and USB-C port, a jack to plug in headphones, and a dedicated charging port.
Ability to connect to 4K external displays, docking stations, headphones, and more.
Surface Pro X
13" touchscreen with PixelSense Display.
Can be used with the Surface Pen 2.
3:2 aspect ratio to ensure that you are able to view documents more accurately scaled.
Built-in Microsoft processors deliver 8-core performance.
Built-in kickstand to allow you to change the angle of the tablet.
Thinnest and one of the lightest Surface Pro models at just 1.7 pounds.
Available with Gigabit LTE.
Boasts a built-in front-facing camera with 1080p HD video that is completely backed by two Studio Mics.
Has 2 USB-C ports that can connect to 4K external monitors.
Does the Microsoft Surface Pro Come With a Keyboard?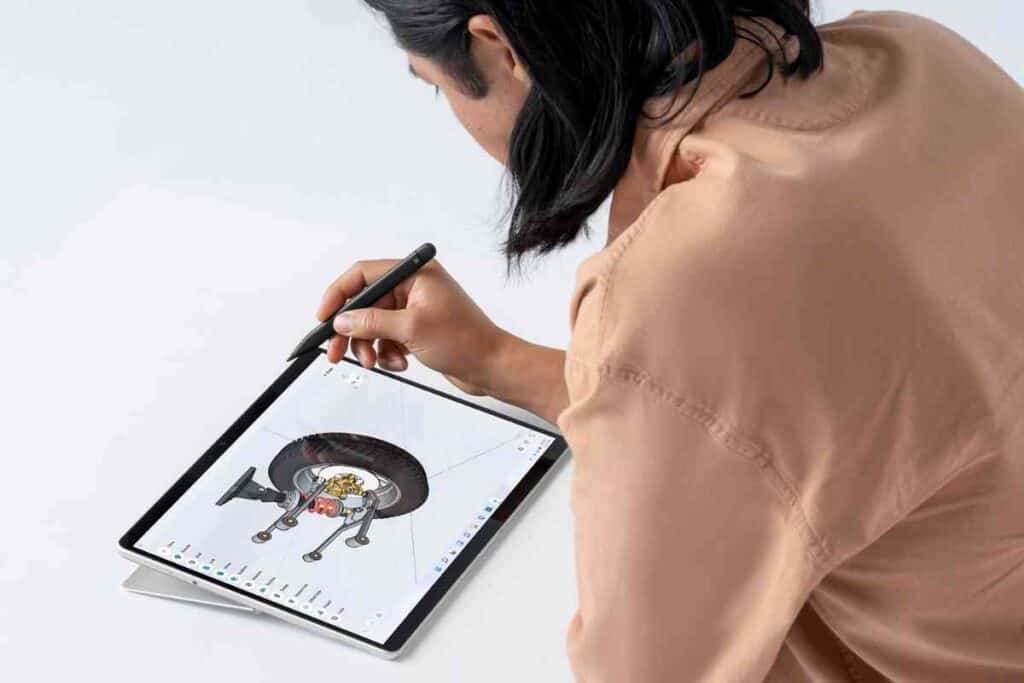 The Microsoft Surface Pro tablet does not come with a keyboard at purchase. You will receive the tablet, plus the necessary charger and cables, but if you want to use a keyboard with your tablet, you must purchase that separately.
When you are purchasing a Surface Pro tablet, you will be given the option to add on the type cover keyboard at the time of purchase.
What Keyboards Work With a Surface Pro?
The easiest keyboard to use with a Surface Pro is the signature keyboard that is sold by Microsoft and specifically designed for the Surface Pro.
It features an Alcantara material covering for comfort, and some models come with a storage tray for the Surface Pen if you also choose to purchase a pen. 
However, because many Surface Pro models have USB and Bluetooth, you can connect almost any external keyboard or mouse to your Surface Pro. 
This will allow the flexibility of using a larger keyboard or a mouse with your Surface Pro instead of the Microsoft signature keyboard and trackpad.
How Do I Connect a Keyboard to the Surface Pro?
Depending on the keyboard you wish to connect to your Surface Pro, there are a few different ways to connect a keyboard to your tablet. 
Connecting the Microsoft Signature Keyboard
The Microsoft signature keyboard connects to your Surface Pro by means of magnets. You will want to bring the bottom edge of your Surface Pro to the top edge of the keyboard until you hear the magnets click into place.
If you have any issues with the connection, you will want to ensure that there is no debris or dust on either edge. 
To disconnect, you pull the tablet and keyboard away from each other until the magnets disconnect. 
Connecting an External Keyboard
If you are connecting an external keyboard, you will most likely need to use either the Bluetooth setting in your Surface Pro tablet or one of your ports.
If the keyboard you are trying to connect does not have Bluetooth, you will need to use the proper ports to plug into your keyboard and your Surface Pro tablet. Once it is connected by means of the correct cable, you will be able to start using it.
For an external keyboard that is Bluetooth, then you need to turn on your keyboard, go into the settings on your Surface Pro tablet, click on "Devices," then click on "Add Bluetooth or another device," and then you should be able to find the proper device to connect to.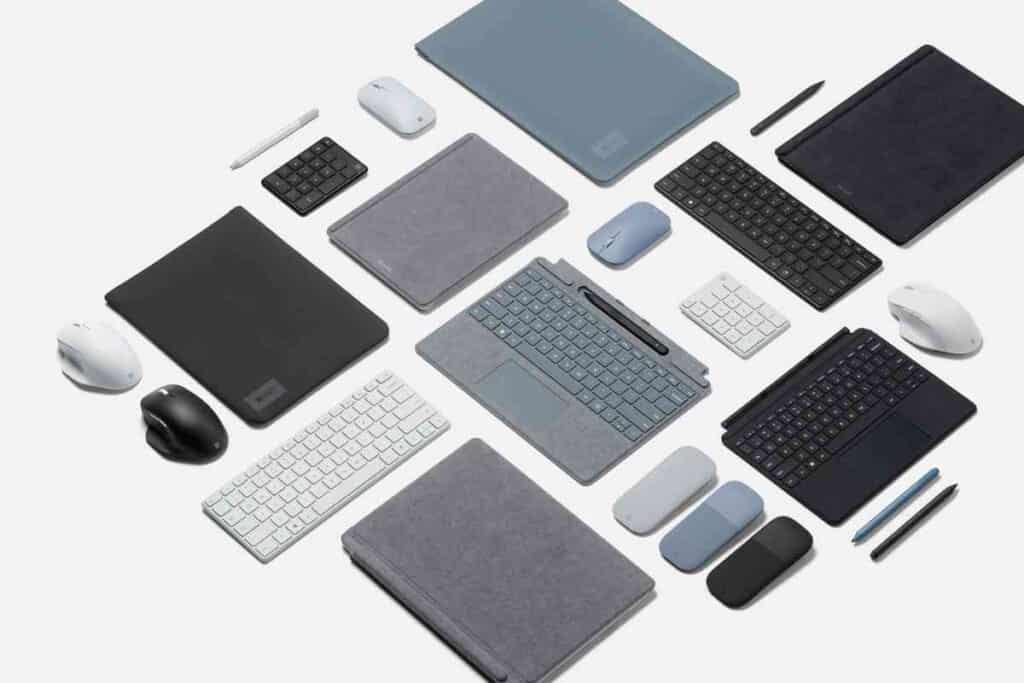 Key Takeaways
There are several different Surface Pro tablet options depending on the features and technology you are looking for in a tablet.
Microsoft Surface Pro tablets do not come with a keyboard.
You can purchase the Microsoft signature keyboard separately or use an external keyboard if desired.