what comes in MacBook air accessory kit
If you expect a new laptop to come with loads of accessories, you might be surprised by what comes in a MacBook Air accessory kit.
A new MacBook Air accessory kit includes a power adapter and a charge cable. Older MacBook Air accessory kits include a power adapter, charge cable, and an AC plug extension to increase the distance between the MacBook Air and power outlet.
Though I appreciate the compact nature of my MacBook Air, it helps to have additional accessories that can boost my productivity and efficiency. I'll go over some accessories that can expand the capabilities of a MacBook Air.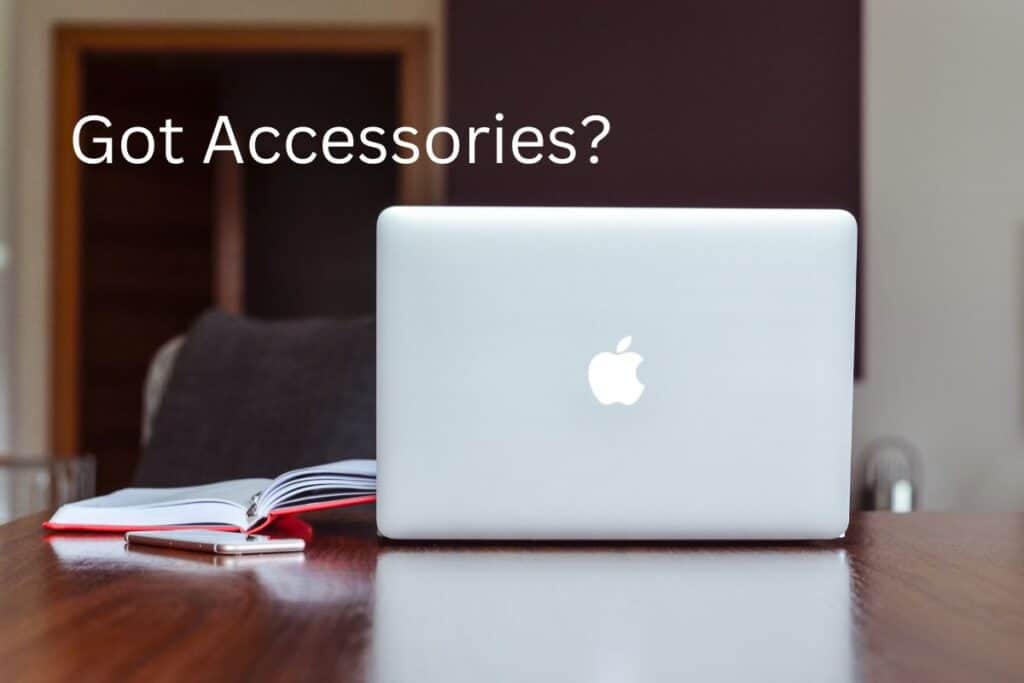 Why Doesn't MacBook Air Come With More Accessories?
Since the MacBook Air was basically designed to be a minimalist computer, it's not surprising it only comes with a power adapter and cable.
I don't mind the lack of accessories since more accessories would likely increase the MacBook Air's price.
Regardless of Apple's reason for not including more accessories, MacBook Air owners have plenty of options to add other accessories.
What Are Some Good Accessories For A MacBook Air?
Multiport Adapter
One of the main accessories I use with my MacBook Air is a multiport adapter.
My multiport adapter serves as a hub for all my device connections and allows me to expand my connectivity options.
My MacBook Air has a limited amount of ports and port types, so using a multiport adapter broadens the types of devices I can connect.
Though I like using devices made by Apple, they can often be more expensive than devices made by other companies.
The multiport adapter allows me to save tons of money by reducing the cost of devices and accessories I use with my MacBook Air.
The multiport adapter also lets me increase the amount of devices I can attach to my MacBook Air.
Without the multiport adapter, I would only be able to connect one external drive at a time since I had a mouse connected to the other port.
With the multiport adapter, I can connect a mouse, two drives, and a pair of speakers at the same time.
That saves me a great deal of time by not having to switch out drives and also helps to make my file organizing tasks much easier.
External Drive
Another useful accessory I like to use with my MacBook Air is an external drive.
External drives can be purchased from Apple, but much less expensive options are often available from other companies such as SanDisk, Seagate, and Western Digital.
The compact size of a MacBook Air greatly limits the internal storage space available compared to other laptops.
A MacBook Air with maximum storage space often has less storage space than a standard laptop from companies like Dell, Lenovo, and Samsung.
Since the internal storage space in a MacBook Air is fixed, using an external storage device can be an effective and affordable way to increase your overall storage capacity.
I prefer using a solid-state drive since they tend to run faster and are more durable than standard hard drives with needles and disks.
Based on my personal experience, I find standard hard drives tend to break down easier than solid-state drives.
This is likely due in part to a standard hard drive having more moving parts that are susceptible to malfunctioning and deteriorating over time.
Of course, there is some trade off when choosing between a solid-state drive and a standard hard drive.
Solid-state drives generally cost more than a standard hard drive with the same storage capacity.
If you want to save money and don't plan on carrying the external drive around with you much, using the standard hard drive might be a more cost-effective storage solution for you.
Portable Charger
Since my MacBook Air battery doesn't have as high a capacity as a new MacBook Pro and other laptop batteries, I find power banks and portable laptops chargers to come in handy when no power outlets are close to me.
Though power banks are typically meant to charge small devices like mobile phones and tablets, they can help to give my MacBook Air just enough of a charge for me to get work done.
Since my MacBook Air has a relatively small battery, it doesn't require as much power compared to a larger laptop like a MacBook Pro.
If you're willing to pay more for portable charging, you should consider getting a portable laptop charger.
Portable laptop chargers have more power capacity than typical power banks and are small enough to comfortably carry around.
I normally just throw a portable laptop charger in my backpack before driving somewhere so it's available in case I need it.
Keyboard
I like the soft feel of my MacBook Air keyboard, but I sometimes prefer using a larger keyboard when working on certain projects.
A wider keyboard with a full number pad helps when entering accounting and other numerical data.
I can easily connect a wireless keyboard through Bluetooth or a small receiver in a USB port.
External keyboards for a MacBook Air are available with many different specifications and prices, so you are bound to find one that suits your needs.
Confirm Connectivity Before Buying Accessories
Before buying accessories to attach to your MacBook Air, you should make sure the accessories are truly compatible with your MacBook Air.
Even if your MacBook Air has compatible ports with another device, the two devices need to have the same technology standards in order to work together properly.
For instance, Thunderbolt 3 and Thunderbolt 4 devices use a USB-C connector, but a device with a USB-C connector won't necessarily work with a Thunderbolt 3 or Thunderbolt 4 device.
If you're looking to purchase an accessory for your MacBook Air online, it might be a good idea to first test the accessory with your MacBook Air at a store to make sure it can be connected.
Key Takeaways
The only accessories that come with a MacBook Air is a power adapter, cable, and AC plug extension (in older models).
Some useful accessories you can buy for MacBook Air include a multiport adapter, external drive, portable charger, and a keyboard.
To ensure an accessory works with your MacBook Air, you should try connecting the accessory to your MacBook Air before buying it.